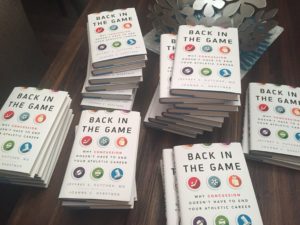 I've been busy with some lovely opportunities to share knowledge, and more importantly, listen to what others think about concussion, sports and the media.
Speaking as part of a panel of journalists at the American Academy of Neurology's Sports Concussion Conference provided an impact chance to hear from neurologists. Quick summary: many feel the media is doing so-so job in communicating medical information. They're wondering why facts are wrong, studies misinterpreted, and news reports are too short. And their definition of media is everything: bloggers, tweeters, reporters, even athletes themselves who are interviewed. I believe very much in both sides of that free speech equation, professional media and citizen-driven media, as they have different roles to play in getting out information, thoughts and opinion. There are powerful journalists who are good at what they do, and there are bloggers/social media types who do great jobs too in serving the public. And yes, the other side is true too, there are incompetent journalists and non-professionals. It was good to hear from the neurology community about their perceptions, as it can help me think about being a better journalist and college professor.
The other side had their thoughts heard at the Association for Women in Sports Media's annual convention, where Dr. Kutcher presented on concussion/sports neurology for media, and we took some questions afterwards. The whole concept of privacy for famous athletes, as in…do we in the media have a right to know a player's medical status/diagnosis?… is something the medical profession and journalists probably will not agree on. We seek information. The medical community is sworn to protect their patients. Having these debates, which are totally smart, friendly, and actually fun, helps both sides think about what the other is trying to do. They are important, because the media may need to think more about the impact on athletes as people, and the medical community may think why we are looking for that information.