I listened to the soundtrack of Hamilton, pretty much on repeat, during a good chunk of the final writing and editing of Back in the Game. Jamming out to the hip-hop tale of a murder, the Revolutionary War, and that wacky English King probably doesn't sound logical. But it worked, and the words went where they needed to go.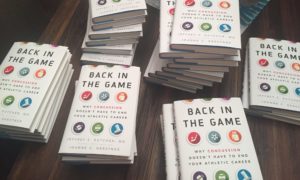 Back when I was listening to "My Shot", I couldn't allow myself to daydream about the wonderful moments to come, starting Sept. 1, 2016: holding the hardcover of the book in my hands – it was real; doing our first interviews, and seeing the book resonate with the public; our first book signing and meet/greet; talking to the first parent who thanked us for writing the book because it changed their child's life….
As Lin-Manuel Miranda is fond of saying, "A bit of a day…" to describe amazing and overwhelming things.
Being an author isn't easy. Getting your book noticed isn't easy. Cutting above the noise of a Presidential Election like no other, a Presidency like no other, floods, terrorist attacks and the crazy swirl of the world isn't easy.
I've gotten smarter all around – writing, editing, researching, being on the other side of the media and having reporters interview you, public speaking, marketing, and just learning how to be patient. You do your best, put it out in the world, and pray it works.
And I feel Back in the Game works. We're the 2017 Clarion winner for best non-fiction, we've helped educate people about concussions, and most importantly, we did the very best we could with the very best intentions.
All good. So thanks. Thanks to everybody for their support. Friends, family, Oxford University Press, Craig our editor, co-workers at The Sports Neurology Clinic and Michigan State, and all the great book sellers and schools  who have hosted us!